The single-phase units from matt:e provide a simple single connection point that allows
for the connection of 1 x
32amp single phase charge point to the existing PME earthing facility. These units do not require earth rods or measuring electrodes to function correctly.
The unit incorporates our own unique monitoring device which disconnects all poles including CPC in the event of a fault.
These units can be supplied with either standard terminal connections or Type A RCBO.
Please note, these units are for use on buildings with a single-phase electricity supply only.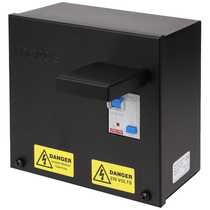 Key Features
Standardises installation
No more scanning for buried services
Minimises civil works
Prevents danger posed by driving Earth electrodes into the ground
Allows charge points to be mounted directly onto metal-clad structures
Safer earth connection as connected directly onto PME supply
Guarantee that the earth resistances values are maintained all year round
Available with Type A RCBO, MCB or standard terminals
Designed and manufactured in Great Britain